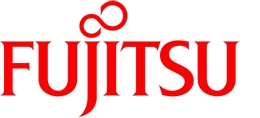 TOKYO, Nov 10, 2023 – (JCN Newswire via SeaPRwire.com) – Fujitsu and SoftBank Corp. ("SoftBank") today announced that SoftBank on October 26 completed the nationwide deployment in core areas of an all optical network in Japan using a disaggregated architecture (1) optical transmission system that supports open networks, including Fujitsu's next-generation optical transmission platform "1 FINITY Ultra Optical System T900" (hereinafter 1FINITY T900). Through this initiative, Fujitsu and SoftBank aim to contribute to the realization of greener networks by building communication infrastructure with a lower environmental impact.
The all optical network uses optical technology in all areas of the communications network. Leveraging Fujitsu's next-generation optical transmission system, the new network realizes a reduction of power consumption of up to 90% compared to previous networks (2) by connecting to equipment compatible with all optical technology and applying liquid cooling technology. Connected to conventional equipment, the latest photoelectric conversion technology reduces power consumption by about 50% compared to conventional equipment (2). In this way, the sustainable network enables high energy efficiency in any connection environment.
Using a pair of optical fibers, Fujitsu and SoftBank further improved communication performance, achieving high capacity and high-speed transmission of up to 48.8Tbps (approximately twice as high as that of conventional (2)networks).
With the introduction of the new optical transmission system, SoftBank aims to build a network that achieves carbon neutrality while meeting the ever-increasing demand for data communication in anticipation of future networks based on Beyond 5G/6G technology.
Moving forward, Fujitsu and SoftBank will use leading-edge technologies to contribute to the solution of societal problems and contribute to the realization of the UN's Sustainable Development Goals (SDGs).
Key Features of the optical transmission system introduced by SoftBank
1. Convergence of all optical and IP networks
SoftBank's IP router is equipped with a long-distance coherent (3) optical transceiver (DCO), which is connected using Fujitsu's newly developed 1FINITY L211 to meet SoftBank's requirements. This enables all optical connection without any photoelectric conversion within the optical transmission system. As a result, power consumption has been reduced by up to 90%. In addition, the two partners have realized a flexible network by utilizing IP network technologies including SoftBank's SRv6 (Segment Routing IPv6), addressing scale of routing (scalability), a task in general all optical network.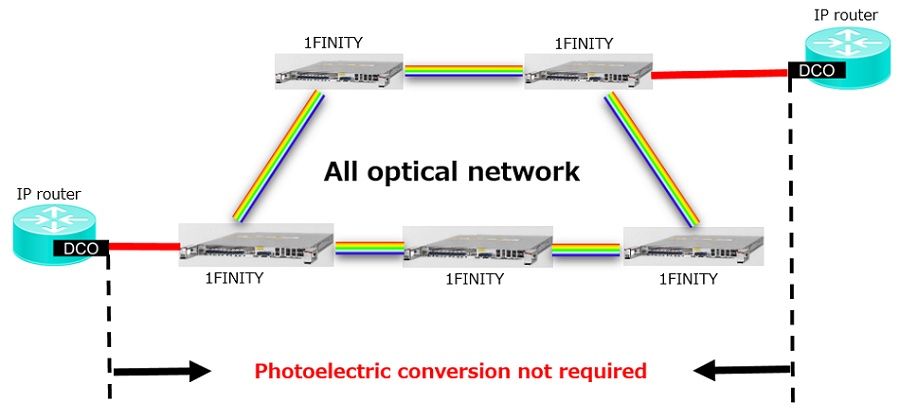 2. Introduction of closed-loop liquid cooling technology
Fujitsu's 1FINITY T900 is the first system in the world (4) to use liquid cooling technology in an optical transmission system to significantly improve environmental performance even when connecting to existing devices that are difficult to connect to all optical network devices. As a result, the system realizes cooling efficiency that is two times higher than that of conventional air cooling technology. By installing 12 modern coherent devices in a 2RU (rack unit) size enclosure, the system can accommodate 36 400GbE. The storage density is four times higher and power consumption is reduced by approximately 50% compared to conventional equipment used by SoftBank. In addition, the closed-loop liquid cooling technology, which accommodates all cooling structures in the equipment, eliminates the need for facility modifications and provides a highly reliable, maintenance-free system with an expected lifetime of 20 years.

3. Disaggregation C+L ROADM architecture
With respect to the wavelength range used for transmission, products were conventionally divided in C-band, L-band and wavelength band. Fujitsu's new system can handle both wavelength bands at once, and band per pair of optical fibers has been expanded to about twice that of conventional equipment (2). In addition, the disaggregation C+L ROADM architecture enables system upgrades as needed, and the L-band can be added later after opening only the C-band, enabling flexible equipment configurations to meet the demands of communication traffic. It provides a flexible network with low power consumption and investment efficiency without requiring extra equipment.

(1) Disaggregated architecture :System in which blades are realized for each function, in contrast to the conventional shelf type in which multiple interface cards are mounted in a single unit
(2) Comparison with equipment used by SoftBank.
(3) Long-distance coherent :A method of transmitting signals using the phase and polarization of light, as opposed to the signal transmission method based on the strength and weakness of light, which has been widely used. Since there is little signal degradation, it is suitable for transmitting a large capacity signal to a long distance.
(4) First system in the world :As of October 24, 2023 (according to Fujitsu research)
About Fujitsu
Fujitsu's purpose is to make the world more sustainable by building trust in society through innovation. As the digital transformation partner of choice for customers in over 100 countries, our 124,000 employees work to resolve some of the greatest challenges facing humanity. Our range of services and solutions draw on five key technologies: Computing, Networks, AI, Data & Security, and Converging Technologies, which we bring together to deliver sustainability transformation. Fujitsu Limited (TSE:6702) reported consolidated revenues of 3.7 trillion yen (US$28 billion) for the fiscal year ended March 31, 2023 and remains the top digital services company in Japan by market share. Find out more: www.fujitsu.com.
Press Contacts:
Fujitsu Limited
Public and Investor Relations Division
Inquiries
Copyright 2023 JCN Newswire via SeaPRwire.com.