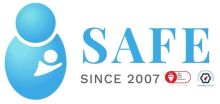 BANGKOK, Nov 2, 2023 – (ACN Newswire via SeaPRwire.com) – SAFE Fertility Group Plc, or SAFE, a comprehensive fertility clinic operator, made its debut on the Stock Exchange of Thailand (SET). The company has a strategy to build on its strengths in fertility treatment to achieve sustainable growth and become a leader in fertility treatment, genetic diagnosis of embryos, and wellness in Asia. In the first half of this year, the company reported strong earnings with net profit of over THB 87 million.
Dr. Wiwat Quangkananurug, a medical specialist in fertility treatment with assisted reproductive technology, as the Chief Executive Officer of SAFE, reported that the company's shares were listed on the SET on November 2, 2023, under the service industry. This was after the company successfully offered 76,748,600 new shares to the public for the first time (IPO) at THB 21 per share. This is a major step for SAFE to support the company's plans to expand its fertility treatment services and genetic laboratories to be more comprehensive. This will help fulfill the dreams of infertile people to have the opportunity to have the children they desire. SAFE will also help drive Thailand to be a destination for infertile people from around the world (Fertility Tourism), in line with the government's policy to develop Thailand into an international health hub to drive the economy in the future.
In addition, the company has a strategy to drive the business to become a leader in fertility treatment, genetic diagnosis of embryos, and wellness in Asia. This will be achieved through the expansion of fertility clinics and fertility laboratories to partner hospitals with a nationwide network or to partner healthcare facilities in locations with economic and tourism potential. This will be done through commercial partnerships, joint ventures, and mergers and acquisitions. The company will also use modern and effective treatment technologies and continuously develop its service staff to promote its leadership. In addition, the company will communicate and build the "SAFE FERTILITY" brand as a leader in fertility treatment and embryo genetic diagnosis in Asia in a more aggressive way, such as through offline and online channels to consumers in Thailand and abroad, and through digital marketing. The company also plans to expand into other related businesses.
SAFE plans to use the proceeds from the fundraising to create sustainable growth potential in the future. In the near term, the company will relocate its Ramindra branch to a space in the Golf Channel Center golf driving range project on Ramindra Road. This will make it more convenient for customers and provide more comprehensive services, such as a modern and spacious genetics laboratory for the company's scientists. The company expects to invest approximately THB 100 million in this project. The company is also considering the opportunity to invest in laboratories in private and government hospitals, and to partner with private hospitals in Thailand and abroad in the form of joint ventures.
The company's operating results for the years 2023-2025 were THB 529.77 million, THB 561.96 million, and THB 729.32 million, respectively. The net profit for the same periods was THB 42.16 million, THB 78.23 million, and THB 161.73 million, respectively. For the first six months of 2023, the company had total revenue of THB 409.84 million, an increase of 9.4% from the same period of the previous year. The net profit was THB 87.4 million, a decrease of 3.89% from the same period of the previous year. The slight decrease in net profit was due to expenses incurred in preparation for the company's listing on the stock exchange, which are one-time expenses.
"We are confident that SAFE will grow by leaps and bounds from its strong financial foundation and become a leader in fertility treatment, embryo genetic diagnosis, and wellness in Asia. We will help fulfill the dreams of infertile people by focusing on providing world-class services that are committed to patient safety with innovative and modern technologies," said the CEO of SAFE.
Darin Kanjana, CEO of Optasia Capital, as the financial advisor, said that SAFE is a company with high business growth potential in the overall global fertility treatment market, which is growing significantly. It will be a Growth Stock that will generate good returns for investors. This is due to the company's distinctive business model, which is mutually beneficial and will drive the company's sustainable growth. The company also provides integrated full-service for fertility clinics that are certified to meet international standards for reproductive services.
She added that the company has 5 branches in key locations, has good relationships with hospitals, obstetrics and gynecology clinics, fertility centers, etc., and is well-known for treating infertile foreigners from countries such as China, India, Myanmar, Vietnam, Singapore, and Japan.
Pichet Sitthi-Amnuai, CEO of Bualuang Securities, as the underwriter, said that the IPO offering of SAFE was a total of 76.75 million shares at a price of THB 21 per share, with a total offering value of THB 1,611.72 million. It was well-received by both leading institutional investors and retail investors. This is because investors are confident in the business potential of SAFE, which is a leader in fertility treatment and is in an industry with high growth potential. The investors are also confident that the fundraising will strengthen the company's financial position to expand its business as planned.
Furthermore, SAFE is committed to social activities. The company will consider the interests of stakeholders in various dimensions, including the company, employees, customers, the public, society, and various organizations. The company has projects to donate money to schools in need, donate medical equipment to hospitals, and donate THB 100 of service fees for every Qualify test to charity. Mr. Pichet is confident that SAFE will be a quality stock in the Thai capital market.
Visit: https://www.safefertilitygroup.com/en/home (SET: SAFE; SET: SAFE-R; SET: SAFE/F)
This press release is distributed by MT Multimedia Co., Ltd. for SAFE Fertility Group Pcl.
Please contact: Wasana Wongsiri (Jeab), Tel: +66 84-359-0659 or +66 2-612-2081 x131, Email: wasana.w@mtmultimedia.co
Copyright 2023 ACN Newswire via SeaPRwire.com.